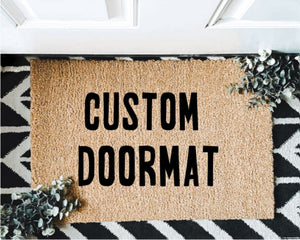 Custom Door Mat
Once you place your order for a custom design I will reach out via email to converse regarding what you would like.
I will provide you three (3) slightly different mock ups of your doormat. You will choose one. 

When responding to your email request please have as much information as you possible can:
Please have the answer to  these following questions ready:
What type of design you would like? (Layout,Text, Logo/Design etc)
What type of font would you like? Script, All Caps, All lowercase. (The name of the font is also helpful)
Would you like any colors other than black? (Hint: try to avoid lighter colors)
 __________________________________________________________________
Mock Up designs are provided by email within 3-5 days (weekends included). You will only be allowed ONE revision if you're unhappy with the mock ups I provided.
Once you select the mock-up , I will provide you with a link to purchase the doormat. Once purchased your doormat will be made within 7-14 business days then shipped out to you.